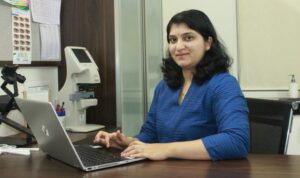 Finevision Optometry and Contact Lens Clinic is one of its kind Optometry clinic in centrally located prime area of Senapati Bapat Road, Pune.
Its Founder, Optometrist Nivedita Dabir takes pride in providing best in class Vision Therapy, Contact Lens and Optometry related services.
Nivedita comes with an extensive experience in this industry.
She found her calling while studying optometry at Bharati Vidyapeeth Medical college, School of Optometry and came out as top rank holder in her post-graduation, with rave recommendations from her faculty.
She has been trained and practiced under the able guidance of many leading ophthalmologists. She has headed Optometry Department at a renowned Ophthalmic clinic.
She is also an International associate member of Colleges of Optometrists in Vision Development (USA). She is an active member of Team Aarohi which work for underprivileged special children.
Nivedita conducts seminars on early intervention strategies for visually impaired children and presented her research work at various national conferences.
Nivedita is a certified 'Rose K' practitioner. She has been trained under Dr. Paul Rose (who invented Rose K lenses) for fitting Rose K RGP lenses.
She understands the importance of keeping her knowledge in the field updated to the latest technologies and researches and attends conferences regularly for the same.
At Finevision, the quality we provide is second to none & the equipment we use is state of the art!
With an extensive experience in the industry, we are on a quest to give you a new 'Vision' on life!
We look forward to 'Seeing' you.